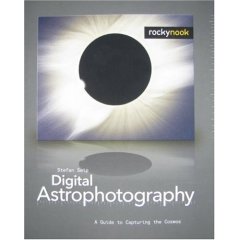 Rocky Nook — a digital photography book publisher in California — sent me a review copy of Digital Astrophotography: A Guide to Capturing the Cosmos for review, which I read over the last few months.
Pros
A good overview of the techniques used in astrophotography.
Well illustrated.
Inexpensive.
Largely easy to follow for the casual reader.
Covers the entire process, from equipment to post-processing. I'm very well oriented with "typical" production and post-production photography methods, but was unaware of the additional complexities and tools involved with astrophotography.  
Cons
Casual SLR/DSLR and point-and-shoot users will not be able to suddenly get stunning frames of the night sky. It turns out that the equipment required to get decent shots requires a level of financial commitment to the niche you aren't likely to make unless you have a professional need or really, really, REALLY like looking at celestial bodies. You'll probably need a special mount for your camera, or build a jig yourself. I did not want to invest a significant amount of money, so I have been unable to try many of the techniques described.
If you're bad at math, you may find some of the technical setup difficult to follow.  
The tools covered are Windows applications. Bah. 
Recommendation
Buy if..
You're serious about becoming astrophotography and have the cash to pony up for specialty hardware, or…
You are not planning on trying it for yourself but nevertheless have $20 of curiousity.