The world's first commercial-grade, standards-based application publication and distribution server for healthcare applications.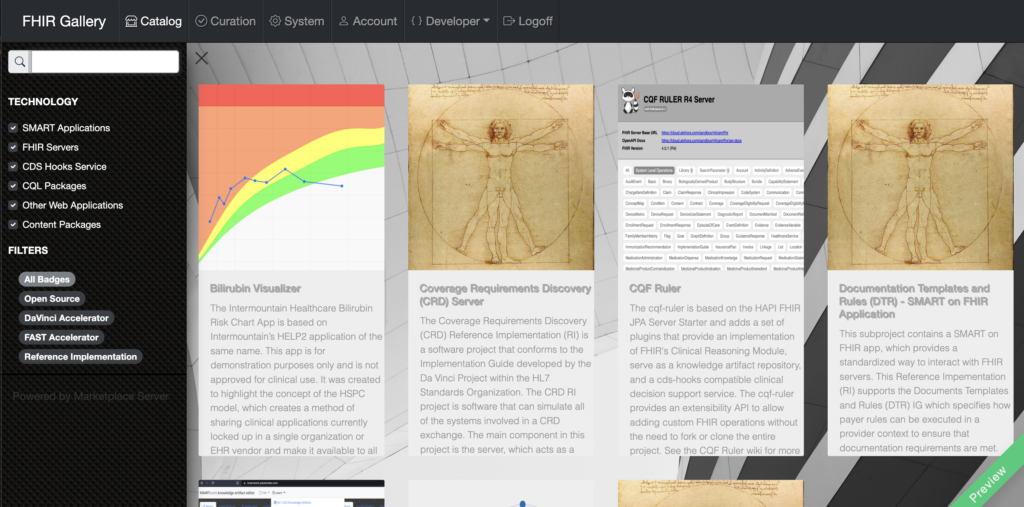 When Preston Lee wrote the open source HL7 Marketplace API specification, EHRs controlled distribution of 3rd-party applications. Today, Marketplace Server untethers applications from platform vendors by implementing the only software and hardware-neutral application catalog and distribution platform.
Features
When you deploy Marketplace Server, you immediately get:
Interactive public cataloging of distributable products, filterable by technology type and category.
Curation dashboard for full administrative control of listings.
Robust product sales licensing model supporting:

site licenses
time-based expiry
usage-based constraints
open source software.

Single sign-on (SSO) for user access.
Dynamic user product authorization for digital rights management, out-of-band billing, and usage tracking.
Developer API using REST and JSON.
Ability to launch trial product instances.
Flexible access controls for curation team management.
True application platform neutrality, agnostic to technology vendor and programming language.
The only thing Marketplace Server isn't neutral about is interoperable products. Those are required.
Contact us today for demos and licensing.