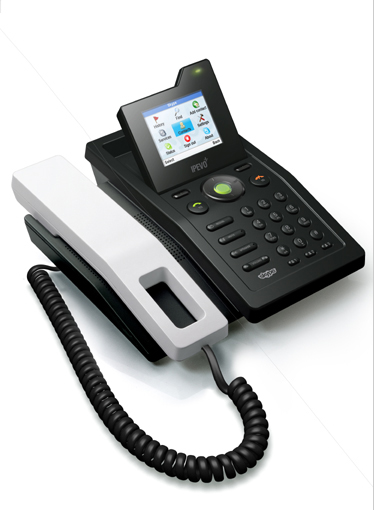 We've recently started using Skype hardware by little-known vendor IPEVO. SOLO models for the desktop (pictured) and FREE.2 USB handsets for the road. The SOLO plugs straight into your ethernet network, and also functions as a tiny ethernet switch, providing a port for your computer if you only have one RJ-45 jack at your desk. It took me less than 5 minutes to get running with no "Quick Start Guide" crap or drivers required. Since I already had a fully juiced Skype account, the SOLO logged in flawlessly with no hassle. Happiness ensued.
The full-color screen is easy to read and the angle can be adjusted. Unlike more "enterprisey" phones, there is no excess buttonage, and the unit in general is very easy to figure out and use. Despite a couple minor nitpicky items (could be easier to access voicemail, not enough speed-dial stuff, needs conferencing built in), the SOLO is a solid practical phone at less than $200 (USD) per seat.
I'm less fond of the FREE.2. I suppose it works well for what it is, but I don't like having to think about starting special software to take advantage of all the features. Everything should Just Work without having to worry about additional moving parts. (Oh, and everything should integrate flawlessly with Address Book too.) The hardware itself seems to work well enough, but until the software side is more streamlined and polished I'll likely stick to headphones and the MacBook Pros built-in microphone.
IPEVO also offers a dedicated conference unit named XING which we may pick up in the future, but have not played with so far.