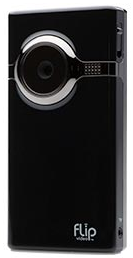 While no one wants to see your entire 180-minute reenactment of Hamlet, it's nevertheless nice to have a camcorder handy once in a while. Usually I'll bust out a pocket-sized Canon SD750 when I need a couple minutes of motion capture, but the SD750–as well as most other low-end digital cameras–aren't fabulous at video, and can have issues recording single streams over a couple minutes. I'd love something in the prosumer class, but I simply don't need video recording enough to justify the cost. And even if I did, I wouldn't be able to fit it in with my normal photography equipment.
The MinoHD is a 720p, 30fps, all digital video recorder roughly volume equivalent to an iPhone: thicker but narrower. Video is encoded in variable bit rate H.264 with AAC audio. (Perfect for use on a Mac.) 4GB of internal flash memory holds about 60 minutes of video, but the storage is neither removable nor interchangeable. The battery is also internal, and charges from the USB connection automatically. A tiny color LCD screen allows for playback and deletion of recorded videos, and provides no special recording effects such as useless cheesy color filter nonsense typically present on consumer camcorders. Costco retail pricing is $179.
Recording a movie is as simple as turning it on and pressing the big red button. Hit the big red button again to stop. It took me approximately 10 seconds to master the process. (An intelligent dog could be trained to do the same if the buttons were bigger.) Use of the "FlipShare" software is not required to transfer video off the device. Just plug it in to a USB port and move the files off. If you choose to use FlipShare, it provides basic video management and editing capabilities, and appears to be necessary to update the MinoHD's firmware. I'm using FlipShare for now, but like the option of not using it.
Pros
H.264/AAC.
720p.
USB connector built in. (No need to carry a cable.)
Inexpensive.
Rediculously usable.
PC/MAC friendly.
Solid-state.
Light and small.
No special software required for day-to-day use.
Cons
Less than 1080p.
No built-in light.
Cannot upgrade flash storage.
Battery cannot be changed.
Verdict
Highly recommended for those wanting a cost-effective HD camcorder for light, periodic use.