For those of you that just received this promo email…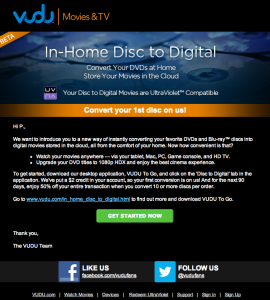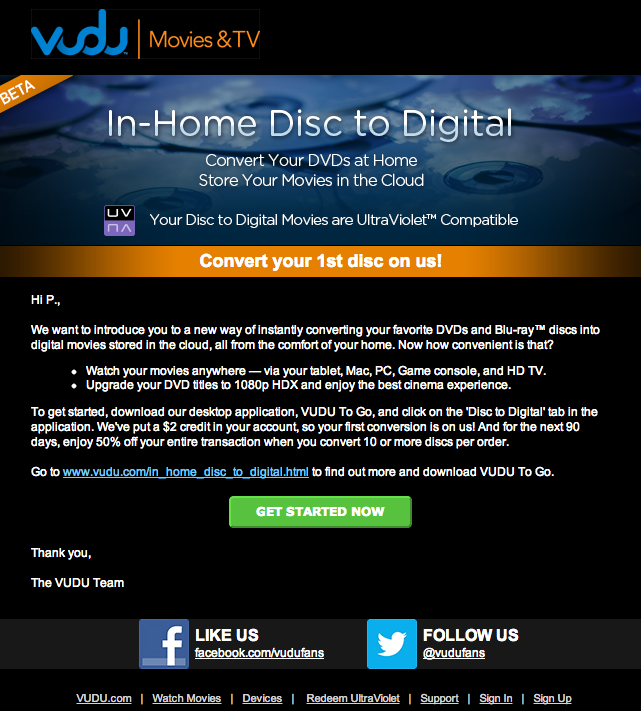 I decided to give it a try with stack of old DVDs. The promo pricing is totally reasonable, but I doubt it'll last. (50% off when you "convert" 10+ discs, then $2 off your total.) Your existing DVD/BD titles are $2 to convert, or $5 for upgrading a DVD to HDX. For the content I successfully converted, HDX quality is great. Some big caveats to considered before jumping in, though..
The Vudu To Go client necessary for the disc matching and verification process is buggy. On my Windows 8 Pro laptop — the only machine I have with a BD player — Vudu To Go would check for BD titles but outright refuse to check normal DVDs, displaying only a nasty error message. I had to use a secondary OSX machine (with a non-BD DVD player) to check DVD titles. I didn't have any issues with my shopping cart when using two machines, but this was really inconvenient. I would think Vudu To Go on Windows 8 Pro would have the bugs worked out by now.
The disc-to-digital disc matching mechanism seemed to mis-match about 1 in 15 titles, such as my retail BD version of "Full Metal Jacket".
Of my properly-recognized discs, Vudu only had rights to convert ~40% of the discs I tried. Understandable, but still a pretty low hit rate for users, especially for anyone like me that would really like to completely toss all discs in the trash, and don't even have a DVD/BD player hooked up anymore.
For HDX quality, both machine and display *must* support HDCP. For example, "owning" Super 8 in HDX would only play in SD when web streaming due to my non-HDCP monitor.
Studios, of course, still place restrictions on your watching abilities, even though you've verified the disc. For example, I "own" 80's comedy "Singles" in HDX, but "[t]his title is viewable on PC in SD only." Lots of stupid crap like that.
Web streaming requires flash and uses a non-trivial amount of CPU. On my new brand new Dell Latitude 10 ST2 Win8 RT tablet, it's totally unusable.
I hope Amazon launches an equivalent, because I'm already committed to an Amazon content library and really, really, really don't want to keep another vendor. If you only have a few stacks of decent titles just taking up space, though, it's worth considering!