I made the jump the last day before Verizon stopped offering unlimited data plans. The delay for switching to Verizon was not lack of motivation–AT&T service has always paled to Verizon in Arizona and is nearly nonexistent at my summer home–but in desperate procrastination of dealing with the migration process. My longest conversation (highly abbreviated) with AT&T on the matter took about an hour and was so traumatizing that I can't see myself ever returning. As far as I'm concerned AT&T is dead and buried: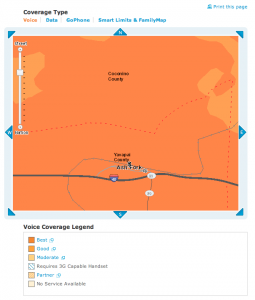 Me: I'm not happy with my AT&T service and would like to cancel my service plan.

Customer Service Representative: I'm sorry to hear that, sir. May I ask why?

Me: I'm in an area with about 1-bar service about half the time, no 3G data (EDGE only), and constant dropped calls. I'm not really getting "service" per se.

Rep: I'm very sorry to hear that. We can cancel your plan for $<huge fee>.

Me: Well… I really don't think that's entirely fair. The issue isn't really that I don't WANT service, but AT&T isn't providing what I'm already paying for. I'm paying about $100/month for unlimited 3G data, <list of other features>, and I only get a few of them some of the time. Check the coverage map.

Rep: Yes, sir! I can see you live in a "Best Coverage" area. That is very good!

Me: 1-bar signal 50% of the time, no 3G and dropped calls the other 50% is "Best Coverage"?

Rep: The map shows we have multiple towers in the area! You should be getting great service according to the map.

Me: I understand what the map says; I've seen it many times, trust me. The issue is not just me, though. No one else with AT&T seems to get usable service here, either.

Rep: I'm very sorry to hear that, sir. One of the towers is not operational. That may have something to do with it. Would you like us to send out an engineer to test your hardware?

Me: Wait… what? First, my hardware is fine. It works fine in <other cities with service>. No one else's phone works well here on AT&T's network, either. Second, if you're dispatching an engineer wouldn't it make sense to fix the tower instead? …You know, the NOT OPERATIONAL one that is currently providing "Best Coverage"?

Rep: Unfortunately we cannot do that, sir.

Me: It doesn't make sense to charge me for a service you just admitted you can't provide. I understand I'm under contract and don't dispute that, but AT&T has obligations, too, and if AT&T can't meet them it isn't right to punish the customer.

Rep: Unfortunately, sir, it is your fault for choosing to live in an area without good service coverage.

Me: ARE YOU FUCKING SERIOUS??? I checked your goddamn map before, during and after moving here, and the fucking thing says "BEST COVERAGE" despite having a non-operational tower. I've been here for some time now and it's never been any better.

Rep: Yes, sir! Coverage in that area is strong. Would you like us to send out an engineering to test your equipment?

Me: YOU JUST SAID A TOWER IS NOT OPERATIONAL. SOME GUY WAIVING MY PHONE TO THE SKY IS NOT GOING TO MAKE IT CONNECT TO A TOWER THAT DOESN'T WORK. DO YOU UNDERSTAND WHAT THE FUCK A CELL TOWER DOES?

Rep: Like I said, sir, it is AT&T's policy to charge cancellation fees according to your contract. We cannot even consider overriding them in such a strong service area.

Me: <Infuriated abrupt disconnect.>
So, I'm now staring at a ridiculous cancelation bill. On the bright side, though, I sold my old AT&T iPhone the next week via eBay for over $200, which not only covered the new Verizon hardware cost but activation fees as well. I'm not getting great 4G on my Mifi (which was disclosed though), but at least I'm getting ok 3G and voice service on my iPhone for about the same price. AT&T? Please.