Just a little food for thought for your next airplane ride. The 4th amendment of the U.S. constitution reads..
The right of the people to be secure in their persons, houses, papers, and effects, against unreasonable searches and seizures, shall not be violated, and no warrants shall issue, but upon probable cause, supported by oath or affirmation, and particularly describing the place to be searched, and the persons or things to be seized.
Sounds reasonable to me. And now, the little note from the TSA left in my checked bag, neatly tucked between my clean, folded boxer shorts..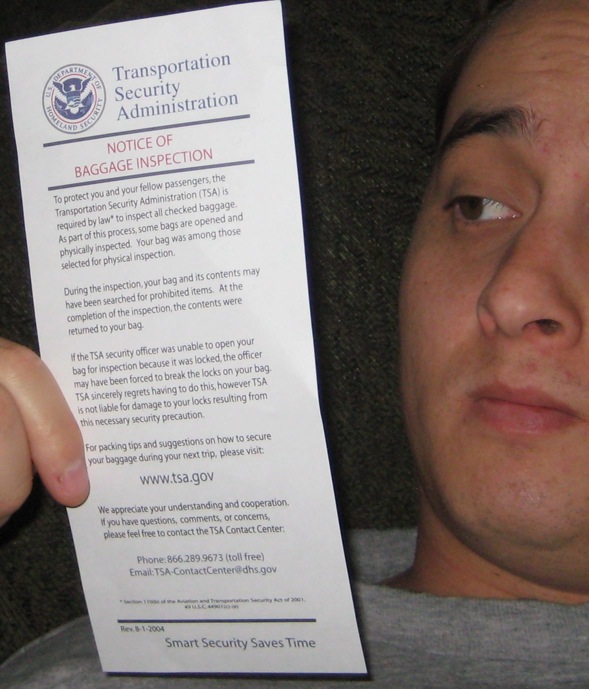 The full text follows below the line..
---
Transportation
Security
Administration
---
NOTICE OF
BAGGAGE INSPECTION 
---
To protect you and your fellow passengers, the Transportation Security Administration (TSA) is required by law* to inspect all checked baggage. As part of the process, some bags are opened and physically inspected. Your bag was among those selected for physical inspection.
During the inspection, your bag and its contents may have been searched for prohibited items. At the completion of the inspection, the contents were returned to your bag.
If the TSA security officer was unable to open your bag for inspection because it was locked, the officer may have been forced to break the locks on your bag. TSA sincerely regrets having to do this, however TSA is not liable for damage to your locks resulting from this necessary security precaution.
For packing tips and suggestions on how to secure your baggage during your next trip, please visit:
We appreciate your understanding and cooperation. If you have questions, comments, or concerns, please feel free to contact the TSA Contact Center:
Phone:866.289.9673 (toll free)
Email:TSA-ContactCenter@dhs.gov
*Section 110(b) of the Aviation and Transportation Security Act of 2001,
49 U.S.C. 44901(c)-(e)
Rev. 8-1-2004
Smart Security Saves Time