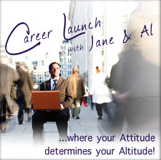 This morning I had the pleasure of doing a guest spot on Career Launch with Jane & Al: a VoiceAmerica Variety show airing live every Monday from 8-9am. Today's discussion was on the role of social networking tools in the employment process.
Lots of capable people are finding themselves particularly hard pressed to find jobs right now, being in the midst of a recession and all, so if you're interested in learning how social networking tools (LinkedIn specifically) can be incredibly beneficial for your career, check it out!
[Stream on the web.] [iTunes podcast.] [Direct MP3 download.]
Full disclosure: Jane & Al–the hosts of the show–are clients and friends. OpenRain developed the Compass Consulting Team website.