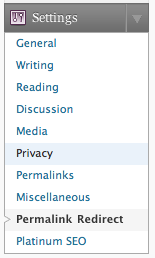 I've been putting off changing my blog permalink structure for about 2 years for fear of getting SEO-smacked by Google. No joke. WordPress allows you to easy change the permalink structure with a few clicks, but doesn't generate permanent redirect (HTTP 301) responses for visitors using the old link structure. Non-redirection link changes for established blogs extremely unwise since you lose all the SEO goodness with search engines such as Google, so I sat down tonight to figure out how to safely make the change.
The easiest solution is to use the Permalink Redirect WordPress Plugin by Scott Yang. This creates a "Permalink Redirect" page under "Settings" in the WordPress admin area where you may specify the old permalink structure from which to redirect. Incoming visitors to the old URLs will automatically 301 permanent redirect to the new URL structure as expected. Thanks, Scott!
I also tried the redirection features of the Platinum SEO and Advanced Permalinks plugins. Platinum SEO can handle post-specific permalink changes, but not site-wide permalink changes. Advanced Permalinks is no longer maintained and did not work for me within WordPress 2.7.