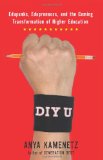 Question: If I complete my general physics and mathematics studies using freely available MIT OpenCourseWare content on my own time, computer science study on campus at ASU Polytechnic, and general education requirements at UoP, all for a degree program at Berkeley, what's wrong with that? After all, as long as I can demonstrate the competancies outlined in its program of study, isn't this effectively more-or-less the equivalent of the Berkeley-delivered version costing possibly 10x more in total? Good for me… right? And if so, who cares?
Answer: Hundreds of years of authoritative people vetted in an aggrandizing aristocracy of exclusionary education. That's who.
Universities best interests are not necessarily aligned with those of students, and as DIY U explores, the differences can be disheartening to the point of infuriating. Given a long-established tradition of prestigue through extreme selectivity and absurd financial requirements, it is understandable that many universities are struggling to find their way in the Information age.
I enjoy looking at political issues though numbers, statistics, historical analysis, and really any sort of empirical evidence lending insight to the world around us. With regards to education, it is obvious that we have yet to fully realize how Internet-enabled technologies fundamentally change how we should perceive learning, and due to the explosive growth of exploratory online systems it is critical we define realistic paths to evolve traditional, costly, centralized, campus-oriented, course-based university programs to the increasingly decentralized, affordable, online, multi-national, outcome-based demands being pushed by current generations of students. DIY U investigates this gap using historical evidence, anecdote, current statistics, and critical analysis: exactly the type of writing I look for in subject matter of high debate.
Of particular interest to me are the many statistics on past, current, and projected future costs of higher education. Not that this should be shocking, but the gist is that the current model just isn't going to work if we really want to positively improve the general education level of the American population. (And I think the whole world would nod in violent support of this goal.) Simply using federal subsidies to (attempt to) expand an already antiquated model of education would be outright foolish.
I also particularly enjoyed the sections on different paradigms actively being used to varying degrees of success, specifically outcome and competency assessment-based learning. I've attended four higher-ed schools to date, and find the requirements of having to take specific course line numbers at a specific college for a specific degree program within a single university in the 21st century to be unacceptably, and quite literally, "old school". As someone who's said "I could have tested out of that class" numerous times, the concept makes sense to me.
If you find these topics interesting, by all means pick up copy of DIY U: Edupunks, Edupreneurs, and the Coming Transformation of Higher Education. I purchased my Kindle version for about $10 on Amazon.